Signing employment contracts in electronic form is an opportunity for the HR department to translate the personnel files into digital format and meet the increasing expectations of employees and managers who regularly require HR managers to improve productivity.
Thus, if the HR department plans to develop strategically, it is appropriate to say that an electronic signature can help optimize the signing of employment contracts in electronic form.
What is an electronic signature?

An electronic signature is a term for any type of signature in electronic format. As defined by the EU regulations on e-signatures (eIDAS), an electronic signature refers to "data in electronic form which is attached to or logically associated with other data in electronic form and which is used by the signatory to sign."

An electronic certificate is required to verify the signer's identity. It includes the signer's personal information, as well as the private key required for the signature. The certificate can be stored in two ways: on a physical device or in the сloud.

Besides, an electronic signature has legal significance. It is based on the eIDAS (Electronic Identity And Trust Services) regulation, which came into force on July 1, 2016. It regulates various types of signatures and their use. An advanced electronic signature (an AES) is recognized legally if the following requirements are met.

An AES must be:
• Uniquely linked to the signatory
• Capable of identifying the signatory
• Created using electronic signature creation data (that is, a private encryption key) that the signatory can, with a high level of confidence, use under his sole control
• Linked to the signed data in such a way that any subsequent change in the data is detectable.

The eIDAS defines three types of electronic signature: electronic, advanced, and qualified.

Standard electronic signature: is used for documents with limited risk(examples: invoices, estimates); the document integrity is guaranteed after signing. The signatory's identity is confirmed too.
Advanced electronic signature: is used for financial transactions or legal documents, such as an employment contract. The security level of an AES is higher.
Qualified electronic signature: is used for documents with a high risk of liability, such as legal documents in the judicial system. It is the most secure type of signature since the signatory's identity is verified in his physical presence.

Benefits of signing an employment contract with an electronic signature for HR departments
Electronic signatures are advantageous not only to HR departments but to businesses too.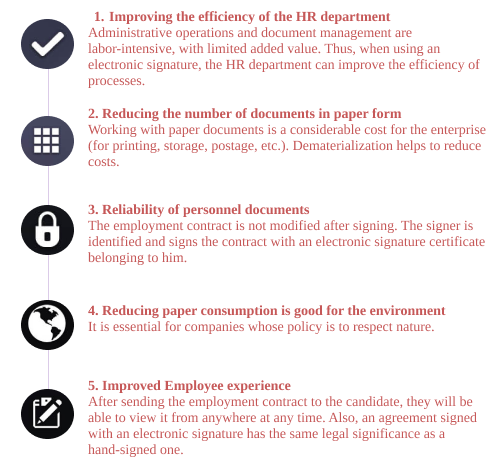 Illustration of the process of signing an employment contract in electronic format

An employment contract is one of the personnel documents that require the signature of two parties. The established practice of signing an employment contract in paper format is still quite widespread. Nevertheless, the personnel document flow is evolving following modern trends, and more and more software manufacturers allow dematerializing an employment contract and signing it electronically.



The dematerialisation of contracts is the process of digitizing documents or creating, signing, and archiving contractual documents online using specific electronic signature programs and electronic document storage systems, such as DocaPost, DocuSign, or PeopleDoc.
There are different electronic signature tools: some are intended only for the electronic signing of documents. These tools are often used more widely, not only for personnel document management but also for the procurement process, accounting (for example, to sign client contracts, invoices), etc.
There are also electronic signature tools that offer more extensive functions for the HR department. These tools may initially offer other HR modules that are interconnected or integrated into HR solutions.
In both cases, the use of an electronic signature improves the efficiency of the recruitment process. A contract can easily be generated with a few clicks, and prospective employees can access their employment contract shortly after receiving a job confirmation.

The seamless process of signing documents makes a favorable impression on candidates. It also speaks about the right choice of the employer.




How do I sign an employment contract with an electronic signature?

To dematerialize the process of drawing up and signing an employment contract, you need to complete five steps in the diagram below:

There are a few things that you should pay attention to before you translate employment contracts in your company into an electronic format :

The cost can be very high. Therefore, it is vital to check the proposed price by checking the competing suppliers.
The implementation time varies depending on the existing IT structure within the company. It also depends on the software provider that will implement this integration.
It is also significant to make sure that you are signing the document with the appropriate electronic signature certificate.

Finally, the choice of an electronic signature tool should match the overall IT structure of the company.

Switching to electronic HR workflow will help your company achieve its performance goals and shift from traditional HR transactions to engaging, end-to-end experiences, using intelligent technology to make each interaction less complicated and more meaningful.

An original article is here.